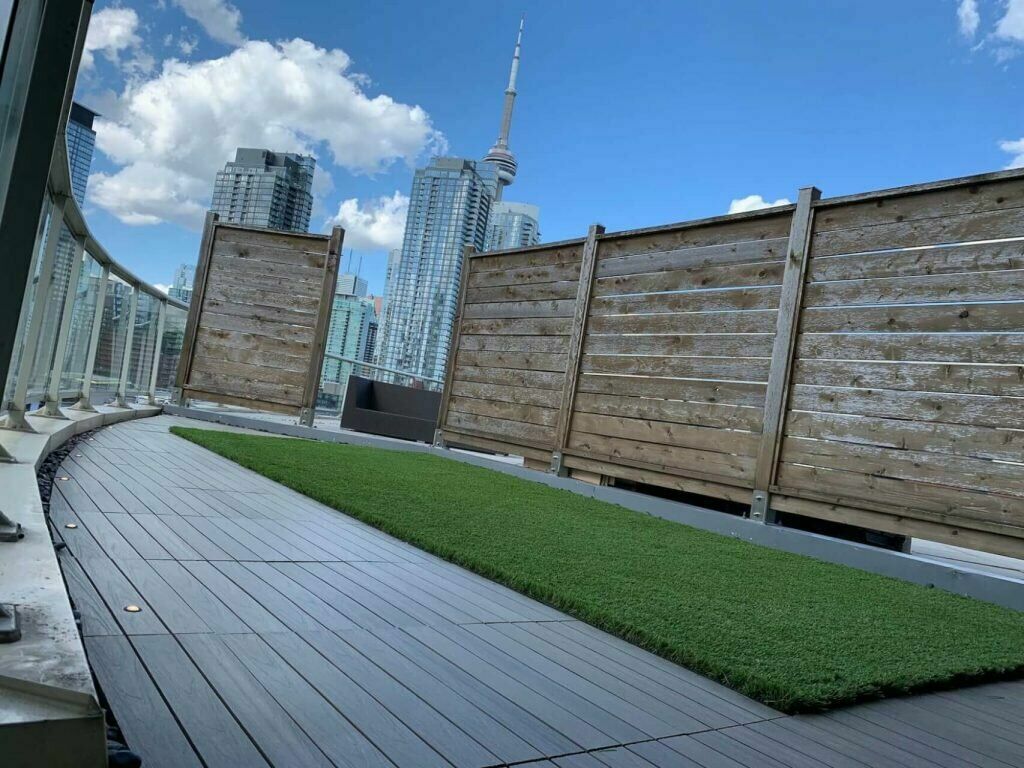 Many people don't know what makes the most sense for their condo when it comes to selecting the best outdoor flooring, and are much better versed on what looks good on the inside. It makes sense. Flooring can make or break an indoor space, and even an otherwise beautifully designed, beautifully decorated condo can be undone by poor flooring choice. But don't forget about your outdoor space as well. If you are about to start planning your outdoor space, or are thinking of redoing your existing one, below are ten of the best outdoor flooring options for your condo.
Deck tiles
Deck tiles are a great outdoor flooring option when there is already a substructure in place. That substructure might be an already existing deck, or a mostly level slab of concrete, both of which you can build directly on top of. You can install deck tiles directly on top of brick patio, and even on top of certain types of existing flat roofs.
Deck tiles come in a range of different materials, including treated wood, and interlock to form aesthetically pleasing additions to your existing outdoor space. It is, however, a good idea to have professionals take care of the installation for you. The great thing about interlocking deck tiles is that they can be removed and taken with you if and when you decide to move, and installation is easy and non-invasive.
Artificial grass outdoor flooring
Artificial grass (turf) floors are becoming very popular in urban areas as a way of injecting some greenery into spaces that are largely devoid of it. It is simply not feasible to live in a big city and expect a lawn, so grass interlocking deck tiles are a great way to recreate the look.
Grass tiles are UV and heat resistant, and are made from environmentally-friendly synthetic grass blades that look and feel like the real thing. Grass tiles turn any outdoor space, balcony or otherwise, into a welcoming and comfortable place for a picnic, a barbecue, and an all-around great place to relax.
Iron wood outdoor flooring
Iron wood is world-renowned for being one of the most durable organic outdoor flooring options on the market. The Ipe tree, which gives us Ironwood, is hard, dense, and has a natural high fatty resin content, making it ideal for Canada's harsh weather conditions.
Interlocking floating Ironwood tiles come in a wide range of styles and patterns that you can tailor to any outdoor space and theme. These tiles require no glue, nails, bolts, or heavy hardware to install, meaning no hassles from your strata council. They are simple to clean, requiring occasional oil treatments to ensure they are well-sealed and resilient, and will last many years.
Tiger wood
Tiger wood is one of the most elegant and durable hardwood options for outdoor flooring. If you look after your tiger wood, there is no reason it should not last for years, standing up the elements with ease.
Tigerwood is the colloquial game given to a species of South American hardwood, primarily found in Brazil, and is noted for its rich colouring and exotic streaking.
Cumaru hardwood flooring
Cumaru is one of the best outdoor flooring options if you are set on hardwood because of how unique this wood is. Different rich hues combine to create this one-of-a-kind interlocking grain that communicates luxury in a way that is virtually unmatched among other hardwoods.
Also called "Brazilian Teak," Cumaru comes in a variety of lengths and formats, and the interlocking tiles can be installed without any glue, nails, or invasive hardware. You can have Cumaru hardwood installed without needing to worry about Strata rules and regulations.
Durable polymers for harsh weather
When thinking about the best outdoor flooring in Canada, one of the foremost concerns is how well it is going to hold up to our four seasons. This is especially true in a place like Southern Ontario, where heat, cold, and humidity combine to really put flooring materials (organic and non) to the test.
Polymer resins have proven to be second to none when it comes to tough synthetic flooring options. Designed to provide a look that is almost indistinguishable from real wood, and are built to tolerate our extreme weather conditions.
Composites: the resilience of plastic with the look and feel of wood
Composites are a fantastic price-quality compromise for those looking for outdoor flooring that can take Canada's harsh weather, but don't want to opt for wood. Plastic wood composites give you the best of both worlds, providing you with a flooring that doesn't care about salt, water, or humidity.
Capped wood plastic, which comes encased in a robust shield on all four sides of the material's core, stands up to UV, stains, mildew, and the entire gamut of common weather damage.
Combining outdoor flooring and outdoor lighting
No outdoor flooring is complete without the right complimentary outdoor lighting. The right lighting adds ambience and mood to any outdoor space, making it an enjoyable place to spend time, day or night.
The lighting is installed right into your flooring, with all of the wiring right under the floor so you don't even know its there. It is also fit and finished to make sure that it matches the style and type of the balcony flooring you have selected.
Stone and porcelain tiles
Stone outdoor flooring products vary from traditional slate to porcelain materials, and come in a wide range of colours and finishes. Stone tiles are convenient because you can place them directly over top an existing concrete balcony.
Stone options are also sold as interlocking deck tiles, making them an easy, eye-catching option for people looking to create a rustic, or backyard feel to their condo's outdoor space without intensive installation.
Synthetic carpet
Regular carpet will quickly become a breeding ground for mold, mildew, and unpleasant spills, but synthetic carpet specifically designed for outdoor use looks and feels fantastic. Outdoor carpets on your balcony are great if you like using your condo's outdoor space without shoes on, and even come in faux grass materials.
While some outdoor carpets require you to apply an adhesive to the substructure before laying it on, many are as simple as unrolling and fitting into place. A word to the wise: it is a good idea to ensure the underlying concrete is properly sealed before laying any carpeting on top, especially if it needs adhesives.
If you are at a loss when it comes to your outdoor flooring design, or redesign, and you are looking for some inspiration, keep the above outdoor flooring options in mind and make the most of your condo's outdoor space.