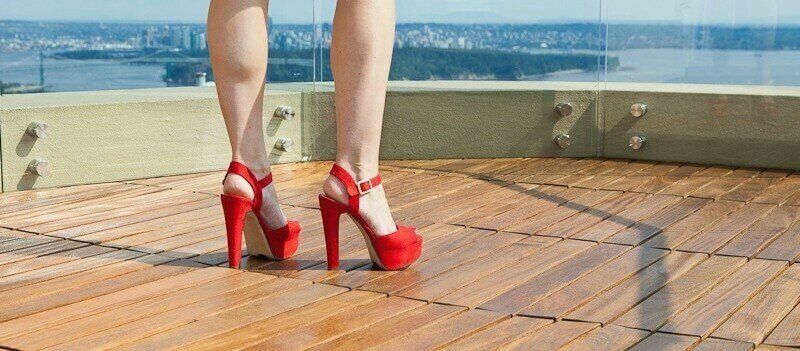 When you're ready to turn your attention to your condo balcony, there can be a lot to consider as you plan your personalized beautification. Even if your space isn't big, it can be transformed into a wonderful outdoor oasis. Here are the 5 things we suggest you consider as you get started in choosing flooring for condo balconies.
Rules, Rules, Rules
Even if you own your condo, chances are you do not own the balcony. It's the condo corporation, called "strata" in British Columbia, that is the owner of the balcony, while you have exclusive rights to the use of it. Every condo board or strata council will have its own rules governing what's permitted on your balcony and what's not. Check into what those rules are so you know what to expect. (In our experience at KANDY Outdoor Flooring, 99 per cent of the time our floating, interlocking outdoor flooring is permitted, once the details are known.)
Establish Your Budget
There are a range of options, and a corresponding range of price tags, for outdoor flooring. Think hard about what it is going to be worth to you to create a space from the ground up that will fill you with peace and pride whenever you look out from the inside, and that you'll want to spend more time enjoying than you ever have before. The old adage that "you get what you pay for" is true, but even on a tight budget you can find options to dramatically improve the look and feel of your condo balcony or rooftop patio.
Indoor/Outdoor Products
Many indoor/outdoor products, like carpets or manufactured grasses, can be very economical, and will look great until they begin to wear. The downside of these types of flooring for condo balconies is that they hold water, meaning the concrete stays wet for longer periods of time. This can actually speed up the deterioration of the balcony surface and in many cases is forbidden by many strata councils or condo boards.  Because they stay wet longer, you will also be faced with diminished usability after a weather event, unless you leave your galoshes by the door.
Floating Floor Tiles
Manufacturers and retailers are responding to the demand from urbanites like you, and there are many more options on the market than there were just a few years ago. To ensure you are leaving room for air circulation for faster drying of both the upper surface and balcony base, outdoor flooring tiles should be 'open profile', allowing air to circulate in and around the entire tile to keep both the tile and the balcony floor dry. This also allows water and small debris to fall through and wash away underneath, keeping the floor looking clean and dry much more of the time. Check what the product manufacturer says about UV stabilizers, too. While we think of ice and snow and rain as elements that can speed up deterioration of our outdoor flooring, the sun can actually deliver a bigger wallop unless there's some UV protection.
Composites, Wood or Granite?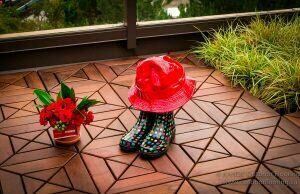 If your budget dictates you're headed to a big box store for your outdoor flooring, you will likely be spared having to make this choice. Most of these large-format retailers offer one type of outdoor flooring tile only, and that is most often composite or low-grade quality wood.
If you have more room in your budget and you prefer a premium product, you can start to play with design ideas and let what sort of look and feel you wish to create drive you to the type of material that is right for your condo balcony. You can find excellent quality exotic hardwoods, which will typically last much, much longer, and will look better in the long term (yes, with a little TLC) than some of the other options. Granite is available from some suppliers as well, and the quality and colour choices of high quality composites make them a popular choice for many.
The main thing to know is that regardless of your budget, your taste, or your condo rules, you should be able to find a suitable option for outdoor flooring that will glam up your outdoor space in a jiffy.
At KANDY Outdoor Flooring, we're the experts in expanding home experiences through service, quality and choice in outdoor flooring for condo balconies, ground patios and rooftop terraces. Call us today at 1-888-882-2889 to see how we can help you transform your outdoor space.