Our First Formal Franchise Training Session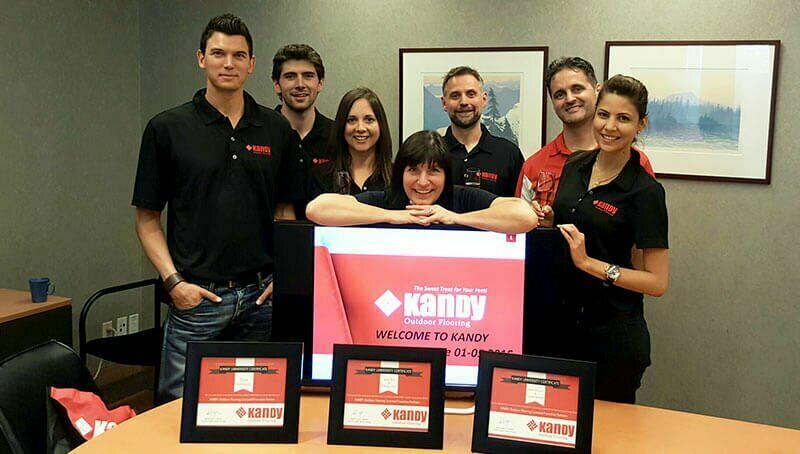 This week we launched the inaugural KANDY University for the new franchise partners we are welcoming aboard just as the spring season kicks off.  It's an exciting time for us all – our new partners are excited about their new business ventures, and the KANDY brand leadership is excited to watch how the unique value proposition of "service, quality and choice", in outdoor flooring for condo balconies, ground level patios and restaurant terraces, is catching hold.
We've been preparing for KANDY University for over a year. Franchising experts will tell you how important franchise training is for setting up your franchise partners for success and for establishing quality control benchmarks – and we believe them!
Operations Manual
We view our operations manual as the backbone of the KANDY University training program. We developed the manual with an eye to KANDY U's curriculum, but we knew it would play a pivotal role in our ongoing training, support and quality control.  Our operations manual now covers all areas of KANDY business, from brand history to product training, from marketing approaches to our customer-first consultation method, from floor designer methodologies to the technology we use in the course of delivering outdoor flooring for condo balconies, ground patios and restaurant terraces, and more. We admit that the KANDY Operations Manual may be longer than some, but we were comfortable erring on the side of having more detail to share with our franchise partners, rather than leaving more room for interpretation or mistakes that might cost our franchise partners money.
KANDY University at KANDY Brand Central (KBC)
We followed the experts' advice on holding KANDY U in the territory of the head office, what we call KBC. We believe it will be helpful for new partners to see how we operate from a founder's perspective, and to meet key players they will later deal with mostly by phone and email. We've planned site visits – to our warehouse, current client's, a live consultation and a live install – to help make the customer focus we've talked with them about become real.
Ongoing Training
After KANDY U has concluded, we have ongoing training planned for the field. The spring home show circuit is kicking off across the country and we will be taking a hands on role, for example, with our new Ontario partners and helping support them for success at the National Home Show 2015 in Toronto, on March 13 – 23 at Exhibition Place.
We are committed to providing outstanding on-going support to our franchise partners, so that they can provide outstanding customer service in their home territories. When you see a KANDY-branded vehicle in your community, know that we've taken great care to prepare them for success, and give us a honk!